Cigar Gifts for Dad On Father's Day
Father's Day only comes once a year, but after raising you, don't you think that your Dad deserves more than just one day? Your Dad should be respected throughout the year, so if you're looking for the perfect gift for a cigar lover that can be enjoyed all year long, then give him a membership to the Premium Cigar of the Month Club™!
For more than 20 years, The Premium Cigar of the Month Club has proudly helped make Father's Day a truly memorable event for Dads across the country. The handmade, small-batch cigars we feature in our monthly shipments aren't what you'll typically find in your local smoke shop, and because each shipment arrives direct to his door each month, your Dad won't even have to leave his favorite chair. Don't settle for a normal Father's Day present this year. Instead, get him the cigar gift he's always wanted: a cigar club subscription just for him.
Use our promo codes for your order to save up to $30.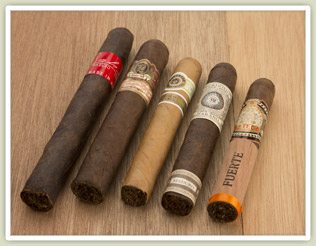 Choose from 2 unique cigar club membership types
Send anywhere from 2 to 12 shipments every month, every other month, quarterly or on specific months you choose.
Design Your Own Club and combine our two cigar clubs or any of our other five monthly clubs in one membership.
Make your gift more valuable with a personalized announcement.
Rest easy - we're going to make you stand out by shipping a portfolio of expertly selected, premium, hand-rolled cigars.
While being a member of the Premium Cigar of the Month Club is amazing, think about how much your Dad would love to enjoy his cigars with craft beers, red and white wines, artisanal cheeses, small-batch chocolates, or even flowers. Well, it turns out you can do exactly that with our Design Your Own Club™ (DYOC) program! With the DYOC, you can ensure that your Dad's cigar club subscription a fun, unique gift that he'll brag to his golf buddies about over and over.
Cigars for Father's Day that are Memorable, Easy, and Affordable
Celebrate Your Dad All Year on a Budget

- Keep your Dad happy with 2-12 shipments of cigars, which can be sent monthly, every other month, quarterly, or even on a personalized schedule!

Save Money on Your Gift Membership

– Use our cigar of the month club promo codes to save up to $30 on your Dad's subscription.

Create a Customized Cigar Club by Combining it with Our Other Monthly Clubs

– With our Design Your Own Club program, you can combine cigars with other gifts Dads love, like craft beer, premium wines, farmhouse cheeses, delicious chocolates, and even flowers!

Looking for a Last-Minute Order? We've Got You Covered

– It's easy to gift a membership – simply call our toll-free number or order online in minutes. You can print a gift announcement to include with the gift, or email it to Dad on whatever date you choose.

Stay Close to Your Dad with a Cigar Club

– While your Dad will love his monthly cigar shipments, we're betting he'll enjoy sharing a cigar or two with you. Just be sure to ask nicely.
Customer Testimonials
"I have enjoyed each and every shipment. Your choices have been exceptional."

Richard Carver, WY
"In all the time I have been with them, they've sent me excellent cigars from all over the globe."

Bob Turnbull, SK Canada
"Thanks so much for consistently providing extremely high quality cigars every month."

Caleb Shoenhard, DC
" It's the perfect program for a novice cigar smoker, or a veteran."

David Fuchs, MO
"To celebrate, I decided to share some of my monthly selections with the boys..."

Kevin Peterson, IN
Read more testimonials
100% Satisfaction Guarantee
Our 100% satisfaction guarantee ensures that every item you purchase at The Premium Cigar of the Month Club meets your high standards or we will replace it or refund your purchase.