Cigar Club Gifts for Cigar Lovers
Uncovering the right cigar gift idea for a cigar lover's Father's Day, Christmas, birthday or other special occasion can be difficult. An unfamiliar buyer can easily get lost in a tobacco shop offering hundreds of cigars and dizzying array of cigar lighters and cutters, humidors, and other accessories.
We invite you to let a membership to The Original Premium Cigar of the Month Club™ and The Rare Cigar Club™ help take the pressure off by giving what any serious cigar smoker would be excited to receive…an expert selected portfolio of five premium, hand-rolled cigars from the world's top cigar makers in Honduras, Nicaragua, and Dominican Republic.
Use our promo codes for your order to save up to $30.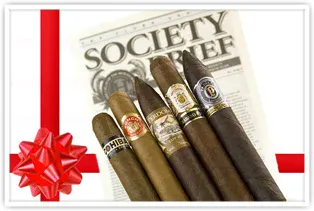 Choose from 2 unique cigar club membership types
Send anywhere from 2 to 12 shipments every month, every other month, quarterly or on specific months you choose.
Design Your Own Club and combine our two cigar clubs or any of our other five monthly clubs in one membership.
Make your gift more valuable with a personalized announcement.
Rest easy - we're going to make you stand out by shipping a portfolio of expertly selected, premium, hand-rolled cigars.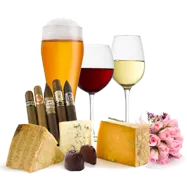 While cigars are great on their own, you'll find that they can be significantly enhanced with the right pairing through our Design Your Own Club program! Monthly Clubs' DYOC program allows members to pair a cigar club membership with other great clubs, like beer, wine, cheese, chocolate, and flowers, for a truly personalized club.
A Premium Cigar Club Gift Membership is Memorable, Affordable and Easy
Choose to give anywhere from 2 to 12 shipments over however many months you desire. Ship every month, every other month, quarterly or even on specific months and your gift will be enjoyed for months to come.
Create Gift Announcements quickly and easily that can be printed or emailed now or on a date you specify.
Use our Design Your Own Club™ program to send a personalized gift by combining our cigar club with any of our other monthly clubs, like our beer club, chocolate club, wine club, cheese club, or our Flower of the Month Club!
Order in minutes, either toll free or online and save up to $30 with our promo codes. Checkout as a guest or create an account to manage your gift announcements and orders.
No need to worry about wrapping or waiting in line at the post office to ship your gift.
And the best part…Rest easy knowing our expert panel is going to consistently deliver boutique, super-premium hand-rolled cigars that you'll be proud to give every month. We stand by every cigar we send with our 100% Satisfaction Guarantee.
Customer Testimonials
"I have enjoyed each and every shipment. Your choices have been exceptional."

Richard Carver, WY
"In all the time I have been with them, they've sent me excellent cigars from all over the globe."

Bob Turnbull, SK Canada
"Thanks so much for consistently providing extremely high quality cigars every month."

Caleb Shoenhard, DC
" It's the perfect program for a novice cigar smoker, or a veteran."

David Fuchs, MO
"To celebrate, I decided to share some of my monthly selections with the boys..."

Kevin Peterson, IN
Read more testimonials
100% Satisfaction Guarantee
Our 100% satisfaction guarantee ensures that every item you purchase at The Premium Cigar of the Month Club meets your high standards or we will replace it or refund your purchase.