Christmas Cigar Gift Ideas
For most people, the holidays mean many things – family, friends, great food and cherished memories. But, for some, the holidays are a time to unwind, relax, and enjoy the simple pleasures in life. What could be better for your favorite cigar lover than sitting by the fire, enjoying a great drink, and topping it all off with a quality cigar? How about monthly selections of exceptional, hand-rolled cigars delivered directly to their door?
The Premium Cigar of the Month Club™ has spent 30 years helping to ensure moments like these by providing the highest quality international cigars from the world's top cigar makers. This Christmas, make sure the cigar aficionado in your life receives a gift that keeps on giving – a membership to The Premium Cigar of the Month Club.
Use our promo codes for your order to save up to $30.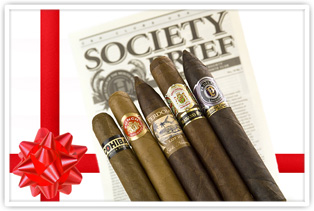 Choose from 2 unique cigar club membership types
Send anywhere from 2 to 12 shipments every month, every other month, quarterly or on specific months you choose.
Design Your Own Club and combine our two cigar clubs or any of our other five monthly clubs in one membership.
Make your gift more valuable with a personalized announcement.
Rest easy - we're going to make you stand out by shipping a portfolio of expertly selected, premium, hand-rolled cigars.
If you're looking for a great monthly club Christmas gift this year, don't limit yourself to just one club! With our Design Your Own Club program, members can pair high-quality premium and rare cigars with our other great clubs, like beer, wine, chocolate, cheese, and even flowers.
A Cigar Club Membership is Memorable, Affordable and Easy
Skip the Stores – Order a cigar club membership online or over the phone. Use our promo codes and save up to $30 on your order.
Customize Your Club – Use our Design Your Own Club™ program to pair cigars with cheese, wine, beer, chocolates and flowers.
Personalized Gift Announcement – Email or print your own gift note for the recipient.
Create Your Own Schedule – Decide when you want to receive shipments and how often.
Stay Memorable All Year – The recipient will remember you throughout the year with each new cigar shipment.
Customer Testimonials
"I have enjoyed each and every shipment. Your choices have been exceptional."

Richard Carver, WY
"In all the time I have been with them, they've sent me excellent cigars from all over the globe."

Bob Turnbull, SK Canada
"Thanks so much for consistently providing extremely high quality cigars every month."

Caleb Shoenhard, DC
" It's the perfect program for a novice cigar smoker, or a veteran."

David Fuchs, MO
"To celebrate, I decided to share some of my monthly selections with the boys..."

Kevin Peterson, IN
Read more testimonials
100% Satisfaction Guarantee
Our 100% satisfaction guarantee ensures that every item you purchase at The Premium Cigar of the Month Club meets your high standards or we will replace it or refund your purchase.