Select a Cigar Subscription Club
Choose From Two Distinct Cigar Clubs
Two distinct boutique cigar clubs to fit any palate
Each month, members of The Premium Cigar of the Month Club receive a portfolio of hand-rolled, boutique cigars made by the world's top-rated manufacturers, accompanied by our monthly newsletter, which offers detailed cigar profiles and tasting notes, cigar manufacturer backstories, and suggested alcohol pairings. As a club member, you'll also be able to reorder your favorite cigars at significant discounts.
Choose from the two cigar club membership types below: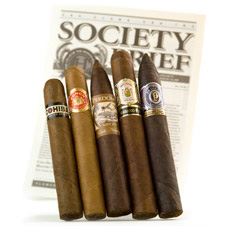 $27.95 a month plus $5 S&H

Our original and most popular cigar club for over 20 years, The Original Premium Cigar Club has earned us our reputation for delivering exceptional quality at outstanding values. Members receive five hand-rolled, premium cigars with retail values between $6-$12 per cigar. You'll get a wide variety of shapes, sizes, and tobacco blends, hand-crafted by limited production, boutique manufacturers as well as from highly-rated, super-premium brands. Each shipment includes our monthly newsletter with detailed tasting notes, cigar specifications, cigar maker profiles, and suggested drink pairings.
Join or Give this club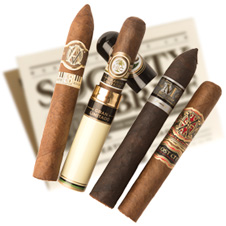 $42.95 a month plus $5 S&H

When only the best will do, Rare Cigar Club members will receive four hand-rolled, rare, small-batch cigars each month from the world's top producers. Each cigar is extremely limited production, made with the highest quality aged tobaccos, and typically boast retail values between $12-$25 per cigar. Each monthly cigar shipment includes varying shapes, sizes, and tobacco blends, and includes our monthly newsletter.
Join or Give this club
Customer testimonials
"I have enjoyed each and every shipment. Your choices have been exceptional."
"It's the perfect program for an novice cigar smoker, or a veteran."
"In all the time I have been with them, they've sent me excellent cigars from all over the globe."
"Thanks so much for consistently providing extremely high quality cigars every month."
"I've been a member of the cigar club since 1998 and I love you guys."
"I appreciate you guys taking the extra steps to make sure my smokes get to me in good shape."
"I'm now more open minded about trying new smokes. Thanks for that!"