Upcoming Cigar Events - March 2014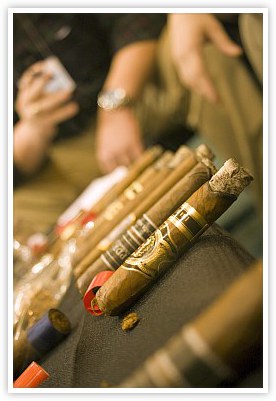 March 10, 2014
Cockeysville , MD - Humology Cigar Tastings: Davidoff "Tongue Tasting Event"
"Henke Kelner is the master blender for all Davidoff cigars. He has perfected the "science" for tasting cigars by associating different tobaccos with different tastes. You will be provided with three unbanded puro fumas to taste, and then a final cigar with all three tobaccos. This is a great exercise for all cigar smokers, novice and aficionado alike."
Tickets and additional information is located on the Humidour Cigar Shoppe's event page.
March 14-15, 2014
Washington, DC - DC Cigar Tweet-up 2014
"Our mission for the B&B Cigar Club's DC Cigar Tweet-Up is to spotlight great cigar shops, introduce people to some awesome cigars, raise awareness for the work of CRA, and support a charity decided upon by the group. We accomplish our mission through the support of cigar manufacturers and shop owners, like yourselves, to sponsor our Auction/Fundraiser event evening allowing us to contribute 100% of the proceeds to our chosen charity. As this is a non-profit event, we do not pocket a single penny and in some cases provide our own resources to ensure the event's success. For our 2014 event, we have chosen American Diabetes Association as our charity donation recipient."
Visit Chesapeake Cigar & Tobacco Company's for all the details.
March 15, 2014
Sylmar , CA - Wine, Scotch & Cigar Event
"Guide Dogs of America cordially invites you to a night of Wine, Scotch, and Cigars on our campus. This 21-and-over event will be held on Saturday, March 15 from 4:30 - 7:30. Reservations are required and seating is limited. Your $75 ticket includes two quality cigars, premium single malt scotch and wine tastings. Click here to see the flyer and learn about sponsorship opportunities. You will also have the opportunity to participate in a blindfold walk with a guide dog while enjoying an evening of networking and relaxing with friends. Non-smokers are welcome and if you would like a ride home after the event, let us know when you make your reservation and we will arrange one for you."
More information can be found on Guide Dogs of America's website.
March 30, 2014
Jacksonville , FL - Stogie Fest
"CIGARS Over 20 top cigar manufactures will be handing out complementary samples to every guest of this years Stogie Fest! CRAFT BEERS Champion brands distributors will be on hand sampling an assortment of beers SCOTCH Stogie Fest 2014 isn't only for cigars! We will have a variety of the TOP Scotch vendors on site giving hands on information and samples of the hottest scotches to date! RED BULL GIRLS!!!! The Red Bull girls will be on location to help kick off this years events! BLACKJACK! During Stogie Fest 2014 there will be a FREE entry Blackjack tournament from CASINO CRUISE JACKSONVILLE. Prizes and gifts will be awarded to all of the winners! BIKINI CONTEST We will crown the 2014 Miss Stogie Fest during this years event! FOOD Local restaurants will be setup during the event sampling a variety of foods from their menus. LIVE BAND To kick off the event we will feature a live band to set the mood!"
The Stogie Fest's official webpage has all the exciting details.