Upcoming Cigar Events - July 2014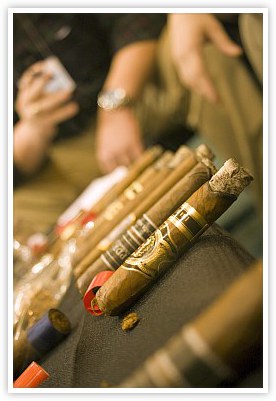 July 11, 2014
Chattanooga, TN – Crowned Heads Road Show at Burns Tobacconist Downtown
"Simply put, 'Road Show' is about cigars and the way we approach them. No two 'Road Shows' will be the same. 'Road Show' is not a "tour" based upon a single template, set to auto-repeat, done over and over again. Each 'Road Show' will be a unique mix of one-day only special deals featuring Four Kicks, Headley Grange, and J.D. Howard Reserve, and an ever-changing selection of Limited Edition Crowned Heads apparel and merchandise. The one constant, however, will be the cigars of Crowned Heads."
For more information, visit Crowned Heads event page.
July 12, 2014
Atlanta, GA – Women & Cigars/Cigars 101: Learn How to Smoke
"The Female Cigar Society is offering a fun class to teach women the basics of this art. For $45, you will receive training, a premium cigar, personal cutter and (1) glass of wine*. If you've wondered what cigars are all about and how to smoke them, or if you've smoked a cigar before but feel like you didn't get it right - then this is the class for you. Whether you want to surprise your man, smoke with your hubby or simply learn a new hobby - come alone or find a girlfriend to register with and come turn up the heat. This is an interactive class and each participant is coached. Adults 21+up. Class includes: understanding cigars, learn the difference between cigars and cigarettes, choosing the right cigar for you, what is a humidor & do you need one, how to cut, light & hold, cigar etiquette, what to pair with your cigar (drinks), how to smoke 'sexy'. The class ends with a Q&A and 'smoke' time amongst new friends. So register for class now and come smoke at the sophisticated, alluring cigar spot THE LEAF CIGAR LOUNGE and enjoy the rich, illustrious decor and savvy people."
Tickets and more information is located on The Female Cigar Society's ticket page.
July 23, 2014
Newport, RI – Spirits and Stogies Wednesdays at The Hotel Viking
"Spirits and Stogies Wednesdays" will be held at Top of Newport rooftop lounge. Guests will sample selected spirits along with a cigar pairing chose by our talented staff and John Brandt of The Old Firehouse Cigar Shop in Fall River, MA. Spirits featured will consist of cognac, brandy, port, single malt scotch, tequila, rum, and liqueurs. Small bites prepared will be passed to compliment each cigar and spirit. All who attend will be eligible to win the raffle item of the evening."
For tickets and to see the full menu, visit Old Firehouse Smoke Shop's webpage.