Upcoming Cigar Events - September 2014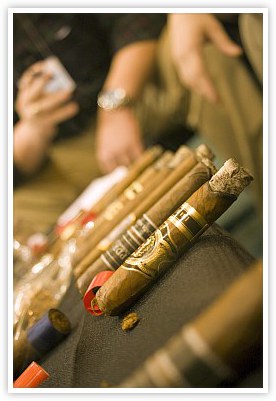 September 5-6, 2014
Paso Robles, CA - Crush and Roll West
"For the 6th straight year, cigar connoisseurs and wine enthusiasts will gather in Paso Robles for the Central California Coast's premiere festival, Crush & Roll West. This celebration of premium cigars, premium wine and the good life, takes place Sept. 5-6, 2014 in the heart of the wine country in San Luis Obispo Country. In addition to sampling world-class cigars and wines, attendees will learn the finer points of both from expert vintners and cigar manufacturers. This year once again, both the Friday evening and Saturday events will be held at the Paso Robles Event Center, which is home to hundreds of events throughout the year, including the yearly California Mid-State Fair. The Event Center is right off the 101 freeway and is easily accessible from any of the fine Paso Robles hotels and motels. There will be separate pricing for Friday-only, Saturday-only, Social Tickets (non-cigar), and an Early-bird specials. Activities include complimentary cigar and wine tasting, cigar rolling demonstrations, seminars, raffles, auctions, poker tourney, music, and much more."
Visit Crush and Roll West for more information.
September 25, 2014
North Haven , CT - Wine and Cigar Pairing
"The Wine Press and North of Havana bring you this special evening of wine and cigars. The night will include a delicious marriage of two wines with two matched cigars. The cigars chosen, introduced and described by the owner of North of Havana. The outdoor patio will be open, the fire pit roaring and the appetizers delicious. Take home a free bottle of wine as a special gift."
Visit The Wine Press event page has all the details.
September 25-28, 2014
Los Angeles , CA - California Mega Herf 2014
"On the weekend of September 25-28, 2014, our nation of brothers and sisters of the leaf will gather in Los Angeles, California to celebrate the Rebirth of Cigars with Drew Estate's Jonathan Drew at California Mega Herf 2014! Jonathan's visits to our beautiful state are few and far between so the California cigar community must take this awesome opportunity to unite and celebrate our beloved cigar industry with the Dizzle himself. When it comes to cigars, California is often times overlooked by industry stakeholders but we are ready to highlight our beautiful state and show the industry that California is most definitely a valid cigar market for cigar manufacturers. California Mega Herf is an all out celebration. An out of the box cigar event that will fill four beautiful smoke filled days of cigars, fine spirits, great friends and fellowship. This spectacular event will benefit Drew Estate's charity of choice: TECHO for Nicaragua. A percentage of every dollar received will be donated to Drew Estate Charities who will in turn donate 100% of donations to TECHO."
Schedule, tickets, and more information is located on California Mega Herf's website.
September 26, 2014
Schenectady , NY - A Night of Exquisite Tastes
"Make-A-Wish Northeast New York will hold its 8th Annual A Night of Exquisite Tastes fundraiser on Friday, Sept. 26, 2014. The event will begin with cocktails at 6 pm at the Mohawk Golf Club in Schenectady, in partnership with Park-Lane Tobacconist of Clifton Park and Edleez Tobacco of Albany. This fundraiser has it all! Fine wine, gourmet foods and an outstanding selection of premium cigars make this an evening not to be missed. In addition, there is also a silent auction with a wide range of items donated by event sponsors and local businesses. This event is a perfect networking opportunity, or simply enjoy a relaxing evening out with family and friends."
For more information this exciting event and to learn more about Make-A-Wish Northeast New York, visit A Night of Exquisite Tastes webpage.