Upcoming Cigar Events - October 2014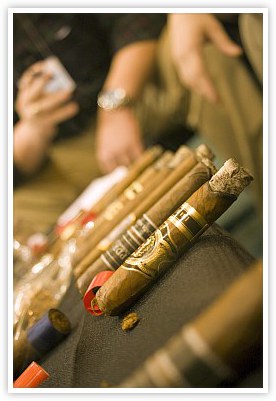 Oct 2, 2014
Evansville, IN - Ashton COOKOUT & Event
"Just a Reminder that this Thursday, October 2, 2014 from 4 PM till 9 PM (CST) we'll be grilling hamburgers and hotdogs with all the trimmings along with chips, etc. And we'll be offering everyone some great deals on Ashton Products. The Weather should be Perfect so drop by and enjoy some cigars with your fellow cigar smokers. Although you don't need a ticket to come to this event, we're selling tickets for $10 bucks…..Hey, you get a $10 San Cristobal cigar AND a $10 credit against the purchase of any Ashton product. Lemme see…pay $10 bucks, get $20 back. Seems like a Slam Dunk to Me! Soft drinks, coffee, and water will be complimentary. Feel free to Bring a Covered Dish if you wish to share with one and all. We will be happy to furnish containers and plates if necessary. Our Ashton expert, Alex Merrick, will be here with some great deals on the featured San Cristobal cigars along with deals on La Aroma and Ashton (!). These are some of the best cigars we carry and with the deals we'll be offering you'll definitely want to stock up your humidor. Rain or shine we'll be grinning, grilling, and smoking. Bring a lawn chair and plan on a fun evening with your fellow cigar enthusiasts."
All the details for this exciting event are locate on Cigar! Cigar!'s event page.
Oct 11, 2014
Snoqualmie, WA - The Washington Cigar & Spirits Festival
"The Washington Cigar and Spirits Festival returns to Snoqualmie Casino Saturday, October 11 at 6:00 p.m. Don't miss your chance to sample some of the best cigars, beers and spirits the Northwest has to offer."
Visit The Washington Cigar & Spirits Festival's event page for all the details.
Oct 25, 2014
Jackson, TN - Tennessee Cigar and Brew Fest
"ENJOY: LIVE CIGAR ROLLING! Watch how artisans create the best cigars in the world. Meet representatives from the biggest premium cigar companies, who will be handing out samples and cool merchandise. Home brewers from across the region will demonstrate just how easy it is to craft your own award winning beer. Unlimited free samples of craft brews from Budweiser, DET, & craft breweries. Door prizes and giveaways throughout the event. Vendors with scrumptious foods and other things guys & girls love. Celebrity Guests - Actress; Jamie Gray Hyder and Professional Bull Rider; Cody Wood. Entertainment all day!"
For all the details, please visit Tennessee Cigar and Brew Fest's webpage.
Oct 4, 2014
Charlotte, NC - Lite Up Charlotte 5.0
"Lite Up is the largest Cigar Festival of the Carolinas! Support Beds For Kids Charlotte's furniture bank assisting children and families out of homelessness. Cigar enthusiasts from all over have come to enjoy the great cigars, food and drink. More than 30 manufacturers and brands will be represented. The VIP ticket provides early admission, more cigars and food."
The Outland Cigar's event page has additional information on tickets and Beds for Kids.