Upcoming Cigar Events - February 2017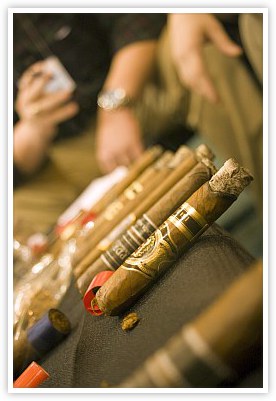 February 17-19, 2017
Lake Worth, FL - The Great Smoke
"For the 11th edition of our growing, annual cigar festival, we've expanded on the fan-favorite platform that's made The Great Smoke the most exciting single day in the world of premium cigars to become a full-fledged weekend getaway!
That's right, for the die-hard enthusiast, The Great Smoke is now a 3-day, smoke-filled extravaganza! Kick off the festivities on Friday night with Quesada Cigars and brand-runner Terence Reilly, as they'll be hosting our pre-event dinner at Ruth Chris Steakhouse (complete with special, event-exclusive commemorative cigars included in the price). The Great Smoke event itself will be followed with a special after-party event at Spearmint Rhino, hosted by cigar personality Erik Espinosa and Espinosa Premium Cigars. And if that ain't enough, cap the weekend off with a much-needed Sunday brunch, hosted by Recluse Cigars—featuring all-you-can-eat and all-you-can-eat-and-drink Bloody Marys and Mimosas.
AND…
The Great Smoke event itself is still the most star-studded collection of cigar personalities in the country! If the event add-ons aren't your style, grab a single-day ticket and cut to the chase—i.e. load up on premium stogies like you're trick or treating on Halloween! We've secured 45 of the industry's most sought-after brands and cigar celebrities, all in attendance for a cigar HERF like you've never seen! Live music, food, drink vendors from craft breweries and distilleries, and much more… make for a truly unforgettable smoking experience. And of course, as with year's past, a portion of proceeds will be donated to one of our favorite charitable organizations, The Kid's Cancer Foundation.
We'll see you there!"
For information on tickets, hotels, and schedule, visit The Great Smoke's webpage.
February 19-24, 2017
Dominican Republic – ProCigar
"The Procigar Festival is a truly unique and memorable experience unmatched in the cigar industry that beautifully combines educational opportunities, entertainment, leisure activities, loads of premium cigar smoking and a lifetime of memories. One of the Festival's most compelling attractions is that it allows guests to have one-on-one dialogues with the industry's biggest cigar makers all the while smoking their cigars and fraternizing with an international community of like-minded enthusiasts in an unprecedented way – cigar manufacturers, retailers and consumers.
The Procigar Festival takes place in the Dominican Republic, it starts in the east coast, were our guests will be able relax at the beach under the tropical sunshine, compete in fun beach activities, practice snorkeling and take horse rides by the ocean. Our participants will also have the opportunity to visit Tabacalera de García in La Romana."
For all the details, visit Procigar Festival's webpage.
February 27 - March 3, 2017
Havana, Cuba - XIX Festival Habano
"Habanos, S.A. is pleased to announce that the 19th edition of the Habanos Festival will take place from February 27th to March 3rd, 2017. The event meets annually all the enthusiasts of the world's best tobacco: the Habano.
The event predicts novelties as well as the traditional activities: Welcome Evening, Visit to the Best Tobacco Plantations in Vuelta Abajo Zone, visit to the Emblematic Habanos Factories, Trade Fair and Seminars, International Habanosommelier Contest, Cigar Rolling Master Class, Gala Dinner and Humidors Auction."
For travel information and itinerary, visit XIX Festival Habano's website.