Upcoming Cigar Events - October 2014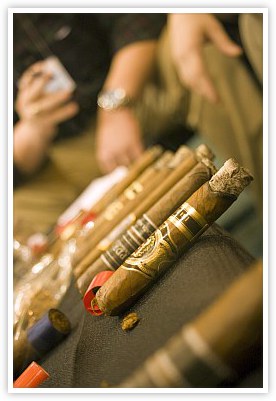 November 6, 2014
Maple Shade Township – Rocky Patek Cigar Event & Fund Raiser
"Rocky Patel Cigar Event & Fund Raiser! Come out and enjoy some great deals on your favorite Rocky Patel cigars and help us raise money for the Animal Orphanage in Voorhees, NJ. We are offering a free cigar for any $20 value donation of cash or items for dogs or cats (blankets, treats, chew toys, food (grain free), leashes, etc.) The event will be from 5-9 PM and we will have some furry friends joining us from the rescue. www.theanimalorphanage.org"
All the exciting details are located on The Smoking Dog's website.
November 7 – 9, 2014
Las Vegas, NV – Cigar Aficionado's Big Smoke Las Vegas
"Friday and Saturday evenings, from 6:30-9:30 p.m., are our traditional, fun-filled, Big Smoke evenings. At these Big Smoke evenings you can join your fellow cigar lovers in an atmosphere of good cigars, good drinks, good food and great companionship. As at every Big Smoke, you have the opportunity to walk around and sample cigars from more than 35 premium cigar producers that will be there."
To learn more and to purchase tickets for this exciting event, visit Cigar Aficionado's Big Smoke Las Vegas webpage.
November 13, 2014
Albany, NY – Espada by Montecristo Event Series
"Espada by Montecristo Event Series comes to Habana Premium Colonie on November 13 from 4-8pm. Play the Montecristo Trivia game to win a free cigar and get entered into a national contest for a chance to win big! Grand Prize: One of a kind 300 count Espada humidor, Runner Up: 3 personalized/engraved boxes of Espada, Weekly raffle: 1 box of Espada + Montecristo letter opener. Espada by Montecristo Deals Include: Buy 3 cigars and get 1 FREE, Buy a box and 2 FREE and Montecristo Espada letter opener or cutter."
Visit Habana Premium Colonie's event page for more information.
November 12 – 14, 2014
West Bloomfield, MI – Hunting Season Extravaganza 2
"All Day Happy Hour Specials. Ticket Includes Hors D'oeuvres, spirit tastings, live entertainment, raffle prizes and gift bags. Purchase A Box - 20% off, receive 7 free cigars and a gift. Purchase 8 Cigars- Receive 3 Cigars Free. Purchase 3 Cigars, Receive 1 Cigar Free. All Accessories 30% Off. Tickets available at both Birmingham and West Bloomfield Locations. Event only at West Bloomfield Location"
More information is located at Churchill's event page.