Upcoming Cigar Events - December 2014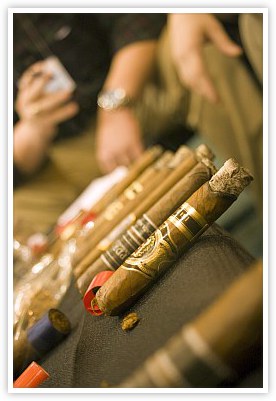 December 4, 2014
New York, NY – Big Smoke New York
"An evening for New York-area cigar lovers. Smoke and mingle with other cigar aficionados like yourself who really enjoy their cigars. Your ticket price includes more than 25 premium cigars, premium spirits, beer, wines and a food buffet created for the evening. Yes, you can smoke—we are in compliance with NYS guidelines."
All the exciting details are located on The Big Smoke's website.
December 4, 2014
Costa Mesa, CA –Cigar & Spirits Magazine Presents Its Annual Toast 4 Toys
"It's that time of the year again. . . The annual Toast for Toys holiday fundraiser! Last year we raised over 400 toys for underprivileged children. Tickets are on sale today and we only have 120 tickets for this exclusive event, so don't wait! Give back this year; purchase a pre-sale ticket and bring one brand new, unwrapped toy. You will be able to sample some of the best cigars and enjoy some of the finest spirits in the world, a well over $200 dollar value, all while giving back to the community."
More information is located at Cigar & Spirits Magazine's event page.
December 11, 2014
Glendale, CA – A Smoking Night in Paris
"Bonjour Mesdames et Messieurs! Save the date! December 11, 2014 7:00 PM to 12:00 AM Cigars By Chivas will be hosting a "Midnight in Paris" themed Black Tie cigar dinner. A complete French menu, French wine, and of course French music all night long! The cigars for the evening will be none other than the best of the best.. Davidoff!
Location: 1001 Nights Restaurant, 1829 S. Brand Blvd. Glendale, CA 91204
Tickets are available at Cigars By Chivas for $150. They will be $200 at the door on the night of the event so please purchase your tickets in advance! R.S.V.P. By December 2, 2014.
Your ticket will get you: A full French menu, appetizers, Entrées, and dessert. Accompanied by French red and white wine and cognac, followed by French dessert, coffee and tea. All guests will also be receiving 3 Premium Davidoff cigars, and of course additional surprises and gifts."
Visit Cigars by Chivas's event page for more information.
December 22, 2014
Albany, NY – Habana Happenings Toys for Tots Charity Raffle
"Time for Habana's Annual charity raffle to benefit Toys for Tots! Well over $1,000 in merchandise is up for grabs. Grab your tickets before it's too late at our Colonie location or call 518-690-2222. Get Your Tickets Before the December 22 drawing! Some items included: $5 Per Ticket or 5 for $20, Trinidad Cabinet Humidor, Montecristo 5-Finger Hurfador, Zino Double-Blade Cigar Cutter, Colibri Single-Flame Torch Lighter, Romeo y Julieta Humi-Savor Tube, La Gloria Cubana Bamboo Ashtray."
To learn more and to purchase tickets for this exciting event, visit Habana Happenings's webpage.