Upcoming Cigar Events - April 2014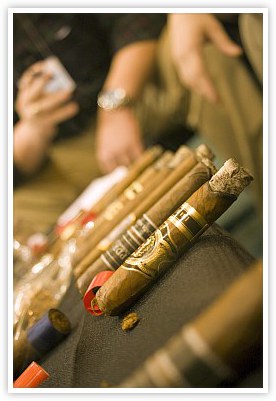 April 3, 2014
Vail, CO - Davidoff Cigars with Spirits Exploration
"Representatives from Davidoff Cigars will be on hand to demonstrate pairings of their renowned products. Learn about the world's finest cigars. Enjoy Cutty Sark Prohibition, Macallan 12 yr and Highland Park 18 yr." This is an event that is part of Taste of Vail.
Tickets and all the details for the Taste of Vail can be found on Taste of Vail's website.
April 10, 2014
Michigan City , IN - Super Smoke Social
"Benefitting the United Way of LaPorteCounty - Indiana's Premier Cigar and Social Event of the Season! Join us in supporting United Way of LaPorteCounty on Thursday, April 10 at 6:00 PM at the Blue Chip Casino, Hotel & Spa for an exciting evening of camaraderie with: Gourmet Multi-Course Steak Dinner, Open Bar with Premium Wine and Liquor, 4 Premium Cigars from Ashton's Family of Brands, Live and Silent Auctions. Tickets are $125. Tables of ten are $1250. Hurry! This Event Sells Out Quickly. Don't miss your chance to participate in the region's ultimate networking and cigar smoking event."
Tickets and additional information is located on Super Smoke Social webpage.
April 24, 2014
Hammond , IN - Midwest Smoke Out
"The 2014 Smoke Out event will be April 24th at the Horseshoe Casino! From the moment you enter, you're in for a night of pure luxury, seduced by the premium cigars, tantalized by the fine spirits and enticed by mouth-watering gourmet foods. Chicagoland's hottest event brings visitors and cigar enthusiasts from 21 states and 3 countries. The Midwest Smoke Out received rave reviews in several national publications for the past two years, and brought together over 2,000 cigar aficionados."
Visit Midwest Smoke Out for further information on the event and tickets.
April 26, 2014
Overland Park , KS - CASI Chili Associations Regional Cook-off Party
"Join us on Saturday April 26th at the Outlaw South for our monthly party featuring the CASI Chili Associations Regional Cook-off Party. Come out for the great chili and drink and stay for the huge raffle and the poker tournament at 5:00pm. Outlaw parties are the best in the industry so don't miss a single one."
More information about the event is on The Outlaw Cigar Company's event page.